"I wish I had a whole page to tell everyone how great Happy Times Tours is. Great value, so much fun, treated like you are their best friends… And you meet the nicest people on the bus. Hope to meet you there on Happy Times Tours." – Char
Kris and John were both super helpful and fun! – Diane
Happy Times Tours & Experiences Brochure
HTTE-Brochure-June-2021-CORRECTED-2ND-PRINT

COVID Update
With the COVID guidelines changing, effective June 1st, 2021 we will start filling our buses for Daycations and Cash-Out Casino Trips. For the time being, we will limit our capacities on the Extended Vactaions.
The CDC recommends that you wear a mask when traveling throughout the United States. However, if you are vaccinated, you can remove the mask while you are on the coach. If you are taking a trip, many business still require that you wear a mask. So please bring masks with you on every trip. As of July 2021, the CDC highly recommends that everyone wear a mask while indoors or in large groups of people.
If you are not vaccinated, the CDC guidelines are that you should wear a mask.
In the News…
Bus Tours Magazine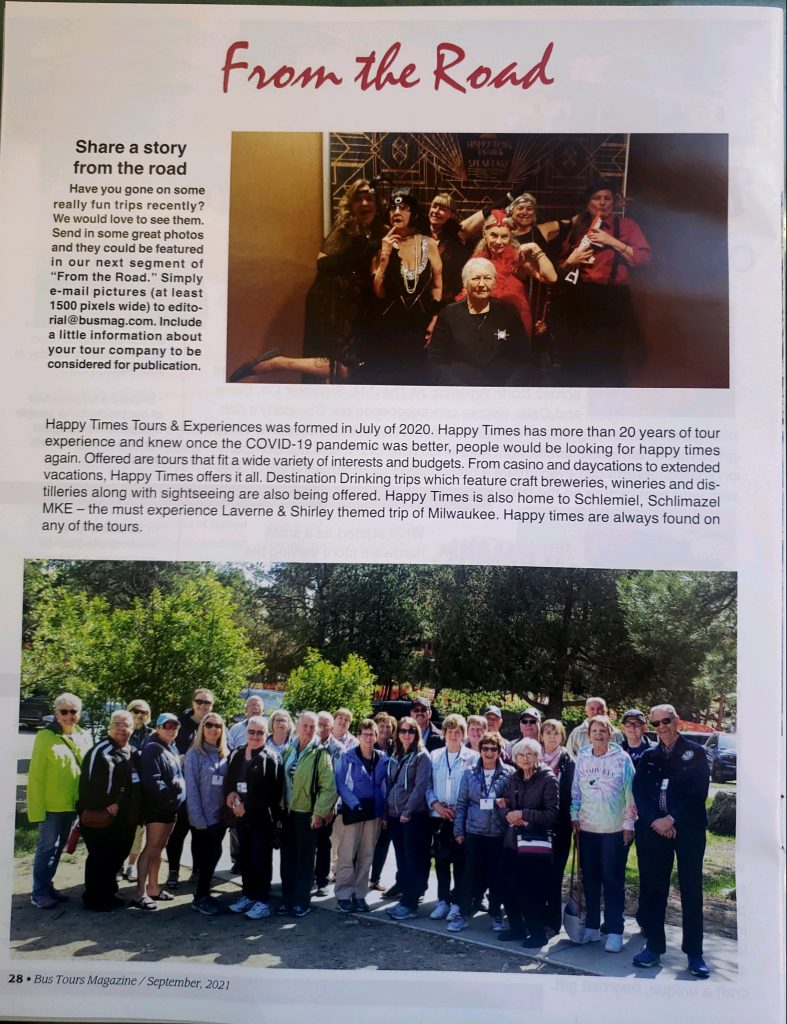 Amercian Bus Association Destinations Magazine
ABA_destinations-magazine-march-april-2021

CBS 58 News
https://www.cbs58.com/news/happy-trails-again-for-happy-times-tours-destinations-as-traveling-bus-tours-ramp-up
https://www.cbs58.com/news/on-your-mark-get-set-and-go-now-youve-got-a-laverne-shirley-bus-tour-to-catch
Group Tour Magazine